"When you look good, you feel great."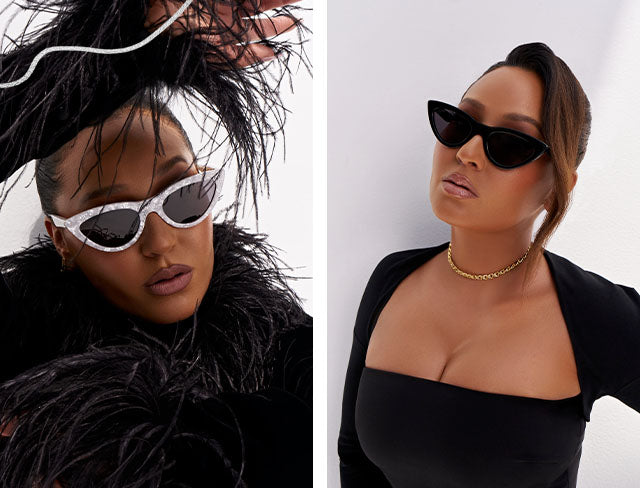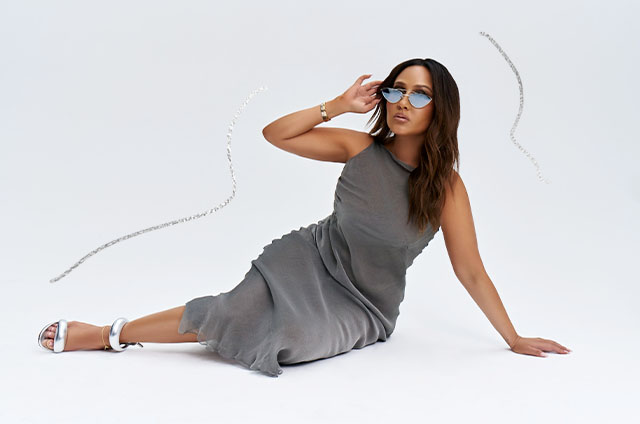 From streetwear sleek to runway chic, it's all about Adrienne Bailon x DIFF sunnies. Featuring on-trend shades with ultimate Cool Girl energy, this collection is about looking your fiercest and most fashionable, whatever the occasion. Snag a pair of stunning sunnies now and complete every enviable outfit.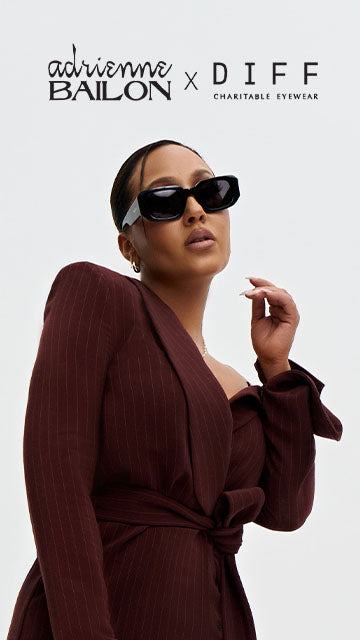 FAQ
What led you to collaborate with DIFF Eyewear for this collection?

I was super excited to collab with DIFF because I am, first of all, a huge fan of sunglasses. I think they are the perfect accessory with every single outfit, and it's pretty awesome how my fans always seem to wonder what sunglasses I'm wearing. So this seemed like a great collaboration, and most importantly, I was really intrigued by what DIFF does to give back.

I think that that was my favorite reason for wanting to collaborate specifically with DIFF - because of the difference they're making. I really love that they give back with every purchase so someone's sight is being helped. And that means so much to me. So to be able to do something that I'm passionate about, something that I love - I'm obsessed with fashion design and specifically sunglasses. My sunglass collection is absolutely insane, so it was so cool to be able to have my own collaboration and my own designs.

How would you describe the aesthetic of this collection?

I would say the aesthetic of my collection is clean. It's chic, it's very New York. I think that it's accessible. I love the fact that it's edgy, but I feel like anyone can wear these glasses and I really think that they're staple pieces for anyone's wardrobe. So they definitely feel like if you have a capsule wardrobe, these are the must-haves. There are basics and yet edgy and statement sunglasses that you absolutely need in your wardrobe.

How do you want people to feel when wearing your collection?

I want them to feel empowered. I want them to feel badass. I want them to feel cool. I want them to feel like they are walking, talking, breathing, living chic fashion. And I also want them to be reminded of me - if you've ever been a fan of mine, if you are a fan of my style, I think these sunnies are like a little piece of me that you get to have a part of.

Out of all your accomplishments, what are you the most proud of?

Out of everything I've accomplished, what I'm most proud of is definitely being able to represent for my culture. I think representation is so important and being a part of 3LW and then The Cheetah Girls. I really feel I broke a lot of barriers and I'm so proud of that. I think there's nothing greater than when someone who looks like me comes up to me and is like, "Oh my God, I didn't have that representation when I was growing up. I didn't see anyone on TV that looked like me, and you made me really proud to be who I am." Even if they don't look like me - the message is the same in being proud of who you are and where you come from and that anything is possible.

It feels like you've created a really positive community online. Why is positivity so important?

Being able to cultivate a positive community on social media has been so important to me. I think the key with these conversations of mental wellbeing and all are just so important and we continue to feed into our audiences. Just good, transparent, honest conversations that make people feel less alone, and I feel like that's what I've been able to do on my social media, telling my stories, speaking my truth, and hopefully encouraging and uplifting people every day.