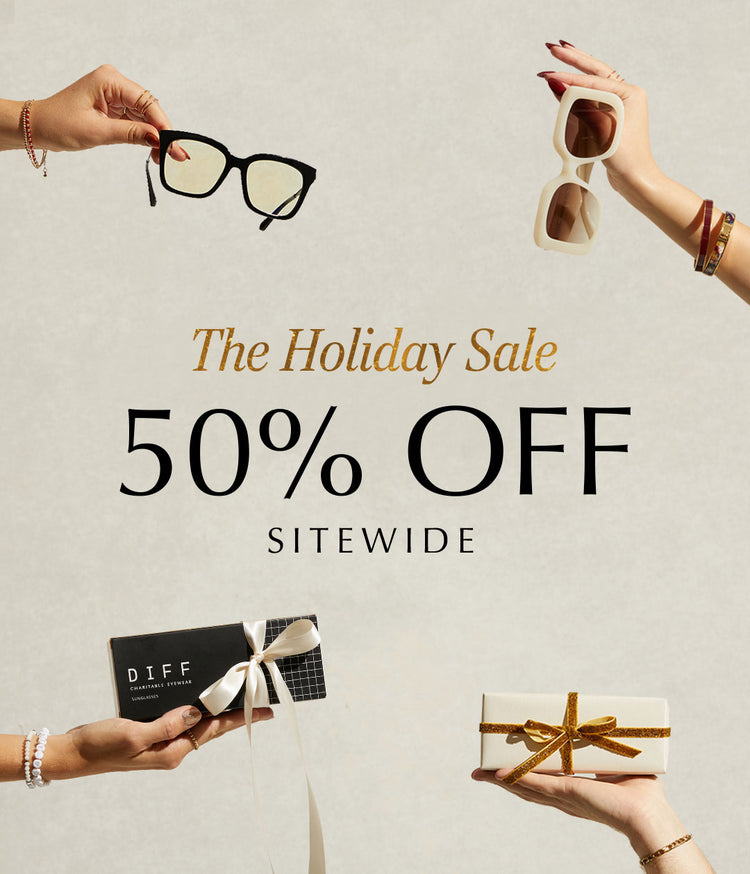 Women's Sunglasses
Trendsetting, premium sunglasses for women at an affordable price point. That's DIFF. For every pair of luxury sunglasses you buy, DIFF helps provide the gift of sight to someone in need.
All Sunglasses Styles
Superior quality meets affordability and style. That's what you can expect from DIFF Charitable Eyewear. Check out our mens, womens, and kids sunglasses. Shop our range of shapes & styles from bold, oversized sunglasses to sleek cat eye sunglasses or adventurous aviators. And remember, every DIFF purchase helps provide the gift of sight to someone in need through medicine, eye exams, glasses, and more.

What are UVA and UVB rays and why should you consider purchasing sunglasses that protect your eyes from them? UVA and UVB rays are those that are most damaging to our skin from sun exposure. UVA rays penetrate the skin and may cause skin aging, and in more extreme cases, skin cancer. UVB rays are what cause sunburn, and also play a role in the formation of skin cancer.

Wondering whether DIFF has sunglasses that block UV rays? All of DIFF's sunglass lenses are made with 100% UVA and UVB protection, meaning that they'll actually protect your eyes and the skin around your eyes. Carry one of DIFF's sunglasses in your purse or pocket and rock a stylish, protective pair of shades no matter where you are.

Visit our Polarized Sunglasses collection for all of our sunglasses with polarized lens offerings in order to protect your eyes to the maximum!
FAQ
The average women's sunglasses lens width size ranges between 40mm-62mm.

A good way to determine whether or not a new pair of glasses is the right size is by comparing it to your current pair. Search for three little numbers on your existing pair. These are the mm measurements for lens width, bridge width, and temple length (in that order). Even if you decide that you want your new glasses to be bigger or smaller, you will at least have a starting point for comparison.

A good rule of thumb is to choose sunglasses that mimic your natural brow shape, complementing your facial proportions. Whether or not your eyebrows are visible is based on where you position them on your nose.

Women's sunglasses trends change with the seasons. However, high-quality sunglasses that fit your face never go out of style. Classic styles, such as aviators, are always a great choice.