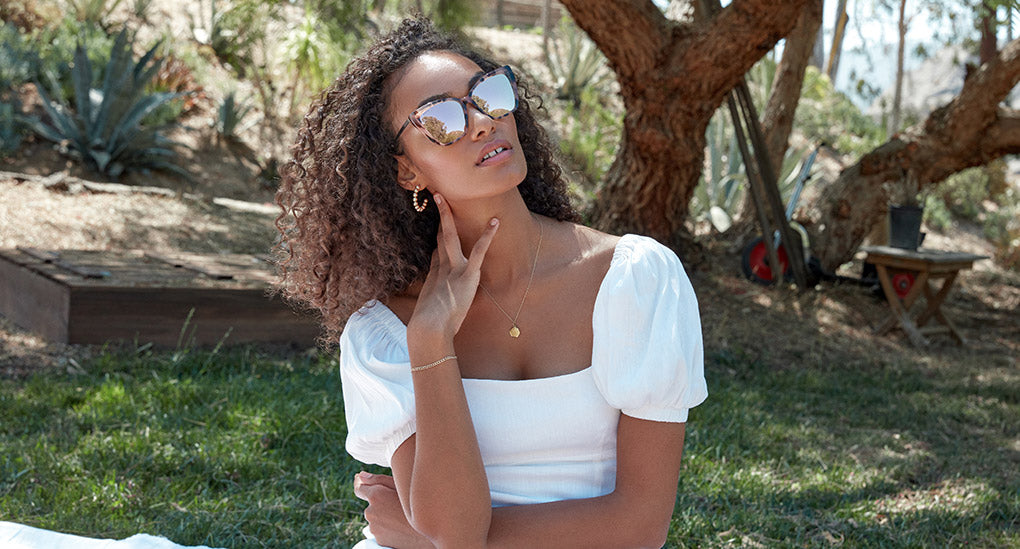 Everything to Know About UV Rays and Protecting Your Eyes and Skin
The trendiest shades don't necessarily deliver the UV protection your eyes need. If your sunglasses weren't designed with UV rays in mind, even a short time outside can do serious damage. In some cases it's temporary—not-so-fun fact: corneas can get sunburned—but there are also long-term risks to consider, like cataracts, pterygium of the eye, and macular degeneratitaon.
Before hitting the beach or the hiking trails this summer, make sure your sunglasses have you covered.
Why you should opt for optimal UV protection
Without sufficient UV protection, there unfortunately is such a thing as too much sun, not just for your skin, but also for your eyes. Ultraviolet (UV) radiation—the same radiation that can lead to melanoma and other types of skin cancer—is linked to cataracts, eye cancer, and other eye health problems.
Every day brings slightly different levels of UV ray exposure, which involves a range of factors such as geography, altitude, time of day, and time of year. The UV index scale rates the degree of skin and eye-damaging UV rays from 1 to 11. Higher levels require more protection. (UV ray sunglasses look good at all levels.)
Learn more about the UV index scale below—and remember, if you're spending long hours in the sun this summer, protecting your eyes with UV ray sunglasses is just as important as lathering up the sunblock.
What is the UV index scale?
In the U.S., the UV index scale measures the daily risk for UV exposure, using a scale from 1 to 11.
0-2
Minimal risk of sunburn and/or eye damage.
3-5
Moderate risk of sunburn and/or eye damage.
6-7
High risk of harm from unprotected sun exposure.
8-10
Very high risk of harm from unprotected sun exposure.
11+
Extreme risk of harm from unprotected sun exposure.
Location, time of day, and time of year matter. UV exposure is stronger the closer you are to the equator, the higher your altitude, and of course when the sun is at its highest and brightest. Still, both you and your eyes can get sunburned on a gray day, so wear those UV ray sunglasses even when it's cloudy. Be extra mindful when you're in big open spaces with snow, sand, grass, or water, all of which reflect a big portion of the UV radiation they receive.
Don't stop at style
A stylish pair of shades completes your summer look, but finding the right frame is about more than shape or color. Great UV ray sunglasses should protect your eyes as much as they reflect your fashion sense.
Here's what your eye doctor would like you to keep in mind while you shop: There are different types of UV rays, including UVA rays, which can pass through your eyes' cornea, and UVB rays, which can't pass through glass but can still damage your eyes. The best glasses protect you from both. For optimal coverage, choose a pair of UV ray sunglasses with a high UVA/UVB rating.
Other things to consider as you search for the perfect pair:
Good things come in small packages, but with sunglasses in particular, bigger is better. Oversized frames limit the amount of lateral UV exposure, in case you need an excuse to invest in statement sunglasses. (If that's not your thing, wrap-around styles are another great option.)

Polarized sunglasses may keep you from squinting, but they don't necessarily offer UV protection. Double-check the label before you buy them.

Don't settle for less than 100%. Do your eyes a favor and pick a pair that offers full UV protection from UVA

and

UVB rays.
Whatever look you're going for, there's a pair of UV ray sunglasses out there that's dermatologist-approved and perfect for your summer style.