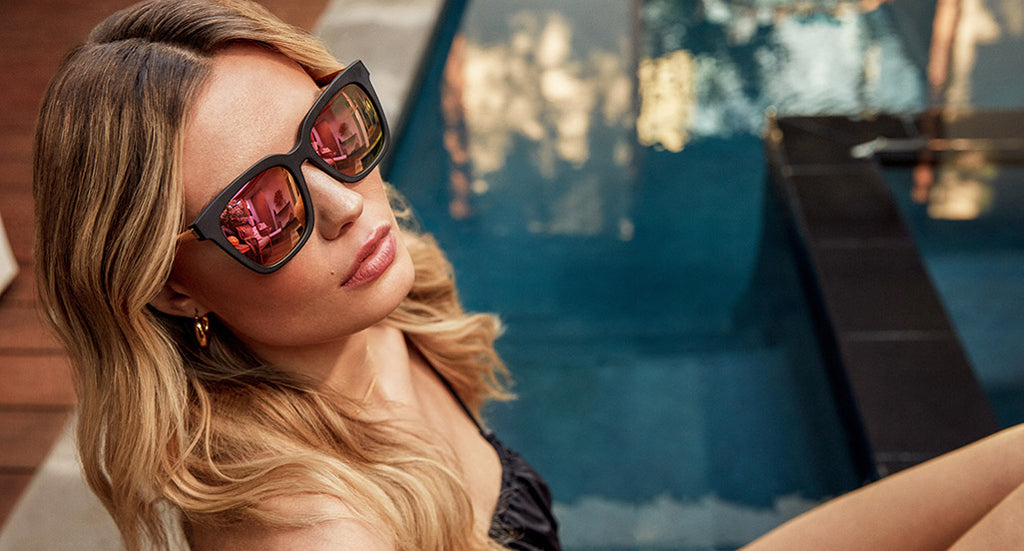 Bring Out Your Inner VSCO Girl With These Bold Sunglasses
VSCO girls first took over social media last summer, and a year later, the '90s-inspired aesthetic continues to generate plenty of buzz, inspiring wardrobes and memes alike.
The term VSCO girl can occasionally raise a few eyebrows, so here's a quick primer for anyone new to it. It's named after the VSCO photo editing app, which lets you add filters to your photos before sharing them on your feeds. A VSCO girl's look is, as the name suggests, inspired by the app itself: casual, beachy, and big on brands.
Common VSCO girl accessories include pastel Hydro Flasks, Kanken backpacks, and slip-on Vans. If you're putting together your own VSCO girl starter pack, you'll also want to include some puka shell necklaces, Pura Vida bracelets, metal straws, and—arguably the most important—scrunchies.
You don't have to commit to the full VSCO lifestyle to have some fun with the look—and what better place to start than sunglasses? Use our style tips about VSCO sunglasses to incorporate one of the hottest social media trends into your daily look or head over to our Women's Best Sellers to browse the most popular styles.
Top VSCO Sunglasses Trends
Accessories are a VSCO girl's best friend, and tiny frames are accessories in the truest sense of the word—perhaps more than any other style of sunglasses. (Let's be real: some of them barely cover your eyes.) But what they may lack in UV protection they certainly make up for in pure style, instantly completing a whole outfit.
Tiny frames straight out of the '90s might be enjoying a comeback, but if you've been on Instagram lately, then you know that chunky, oversized shades are just as bold and popular a choice. For a colorful riff on the style, try a pair of literal rose-colored glasses, featuring another one of our favorite VSCO-inspired trends: the flat top.
Long before they became a staple of the VSCO girl starter pack, Audrey Hepburn made cat eye sunglasses look not just cool, but elegant, too. Decades later, the fun frames are once again having a moment. Some cat eye styles are a throwback to old Hollywood glamour, while others reflect street style sensibilities. Take your pick.
All White
Sometimes, all you need to make a statement with your VSCO sunglasses is a single color. White frames have recently become an Instagram-friendly trend, and it's easy to see why. Any style or shape will pop in this bold yet classic shade.
Playful Patterns
Colors and prints are at the core of all things VSCO, including VSCO sunglasses. One of our favorite looks: a white leopard print. Think of it as a twist on the classic tortoiseshell.
If one thing's clear from the VSCO aesthetic's popularity, it's that fashion doesn't just come and go, it also comes back in unexpected ways. Trends will continue to evolve and reappear, sometimes so quickly that it's hard to keep pace. Don't worry, we'll always be here to help you emulate your favorite influencer's style.