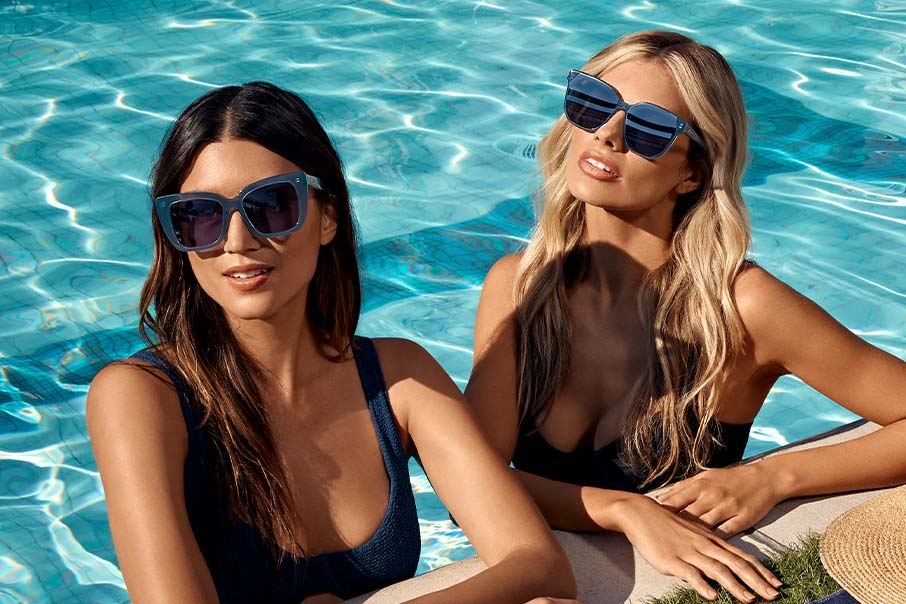 7 Spring & Summer Fashion Trends to Follow
Spring is in session! From neon colors to Y2K style, this spring and summer offer a kaleidoscope of fashion trends. Check out the top 7 hottest trends and how to style your eyewear
1. Color My World
Question: Can you ever wear too much color? Answer: Never! This spring and summer, infuse life into your attire with bold and bright colors. I'm talking neons, powerful prints, the more saturated - the better! Neon pink, green, yellow, and orange are especially on-trend this season.
2. Matchy Matchy
Your spring uniform just got a whole lot easier! Matching sets are making a comeback this spring and summer. Whether that's a two-piece suit or a more casual crop top and skirt combo, go matchy matchy this spring! When it comes to eyewear, stick with a solid-colored, neutral frame to help tie your look together.
3. All-White Everything
Everyone needs a plain white t-shirt in their arsenal. It's classic, clean, and takes the hassle out of getting ready in the morning. This summer, go even farther with an all-white look. It can be a delicate white dress, a white linen suit, or if you're brave - a white blouse and white pants situation.
4. Bring Back Y2K
This just in! The early 2000s are back! Celebrate the revival of Y2K style with bell-bottom jeans, cropped tees, butterfly details, ruffles, and feathers. Think Elle Woods in Legally Blonde when the movie was released in 2001. For sunnies, smaller silhouettes and pastel tones will fit perfectly with Y2K style.
5. To the Max(imalism)
This summer is all about maximalism, aka the opposite of minimalism. So have fun with loud prints, showstopping textures, and accessories. An easy way to dress in maximalist style is to include metallic colors in your OOTD, along with bright colors. The bolder, the better!
6. Boho, Baby!
Bohemian is IN this spring and summer! Bohemian style is easy to spot. It's laid back yet vibrant. Paisley print is a staple but so is floral, fringe, patchwork, and event netted & knit cover-ups. It's as if the '70s and '80s had a baby born today. Bohemian style should always feel effortless and carefree.
7. Go Big or Go Home
We've reached our 7th and final trend. Drum roll please...it's oversized sunglasses! Big shades are all the rave this spring and summer. So add some oversized silhouettes to your next spring fit. Oversized purses are also making an appearance, so be sure to nail your looks with the right accessories.