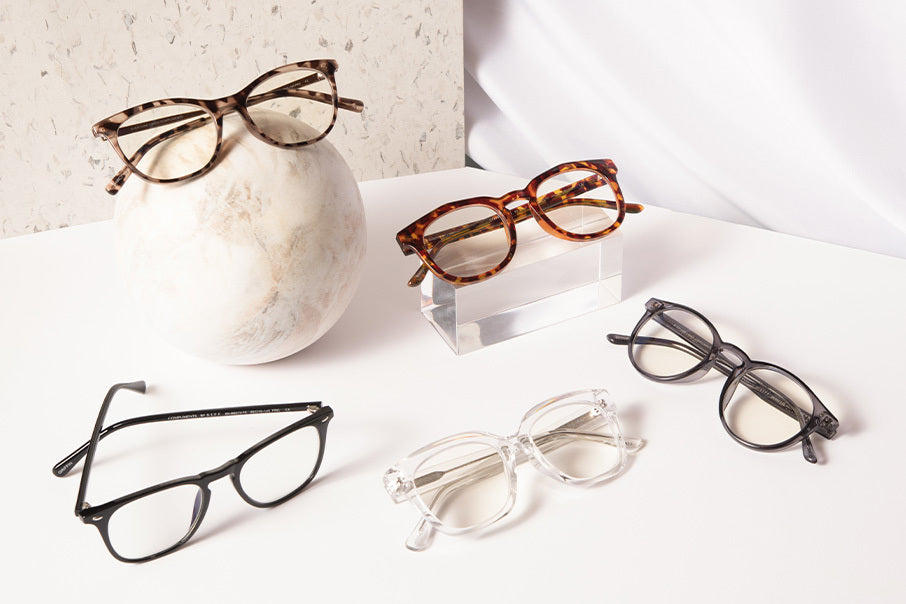 When To Wear Prescription Glasses vs. Readers
When it comes to glasses, knowing what to buy and when to wear them can feel a little bit daunting. But, we're here to help! Let's demystify the differences between prescription glasses and reading glasses.
What are Prescription Glasses?
Prescription (Rx) glasses are all about vision correction. They sharpen your vision and correct just about any condition. The two most common eye conditions that require Rx glasses are nearsightedness and farsightedness.
What is Nearsightedness and Farsightedness?
Nearsightedness is a vision condition when you can clearly see objects that are close to you, but objects that are farther away appear blurry. With farsightedness, you can clearly see objects that are far from you - but objects that are closer appear blurry. Both nearsightedness and farsightedness have to do with the natural shape of your eye and can occur at any age. Whether you are nearsighted or farsighted, an eye care professional will prescribe a pair of lenses with the perfect strength for you.
When to Wear Prescription Glasses
Prescription glasses are made to be worn most of the time. Rx glasses help improve your vision, reduce migraines caused by eyestrain, and keep you from squinting. We always recommend you ask your eye care professional for any additional instructions. But in terms of nearsightedness, be sure to wear glasses while driving and watching tv. If your prescription treats farsightedness, it's optimal to wear your glasses while working on the computer and reading.
Steps to Purchase Prescription Glasses
Browse our wide range of glasses and pick the one that suits you!
Top Rx Picks
2. Select Your Lens
We offer single vision lenses (prescription), reading lenses, polarized lenses, and photochromic lenses.
3. Upload Your Prescription
Upload a picture or scan of your prescription, then add to cart!
What are Readers?
Readers, or reading glasses, are all about magnification. As we age, our eyes' natural elasticity decreases which makes it difficult to see objects in close range. This decrease in elasticity is commonly known as presbyopia. It can be difficult to determine when reading glasses are necessary. A good rule of thumb is that if you find yourself squinting when you read on your phone, in a book, or on a menu, then it's time to invest in a pair of readers! Reading glasses are available in a variety of strengths, or powers, and can be easily purchased over the counter and on our website.
Farsightedness vs. Presbyopia
It can be hard to discern whether you are farsighted or simply need readers. If you are above the age of 40 and newly experiencing eyestrain when focusing on up close objects, it's very likely that you need reading glasses rather than a new prescription. However, it's best to visit your eye doctor to confirm which is needed.
When to Wear Readers
Wearing readers is one of the easiest ways to maintain healthy eyes and vision. Reading glasses help to actively reduce the strain on your eyes and as our eye's elasticity decreases it becomes increasingly important to reduce that strain. Whether it be reading, computer work, or crafting, be sure to wear your reading glasses while doing any up close activities.
Steps to Purchase Readers
1. Select your frames
Our Compliments line includes readers of all powers and styles. Our Compliments reading glasses also block blue light from screens to keep your vision fresh!
Top Readers Picks
Our readers come in a variety of different levels to cater to your eyes. If this is your first time trying readers, we recommend starting with +1.0.
Knowing when to wear prescription glasses vs. reading glasses is just one of the many ways you can further your eye health. Here at DIFF, we are passionate about helping you make a DIFFerence in your eyecare. So have fun, pick frames that inspire you, and remember - every purchase helps provide the gift of sight to someone in need.