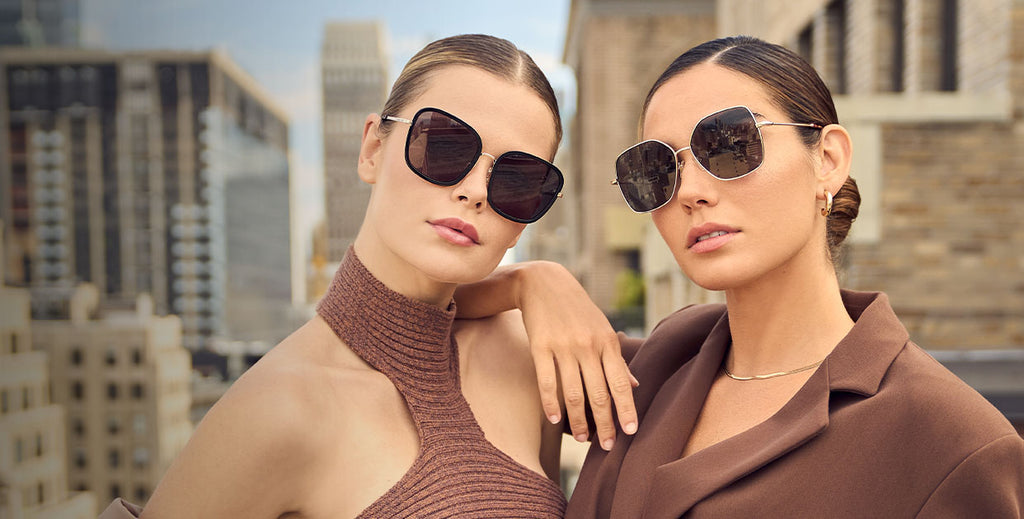 Sunglasses: Trends for Fall
Get ready for a fashion-forward fall! While microtrends have been dominating runways, an emphasis on personal style has been blossoming more and more - one you can see easily translate into sunglasses trends for fall. What's in and stylish can take on a few forms - will you be rocking any of fall 2022's trendiest sunglasses?
Sophisticated Style - Neutrals
Who doesn't like looking sleek? And especially as you experiment with your own wardrobe, incorporating different pieces and different styles, neutral sunnies are making even more of an impact. Not only do they act as a grounding point for any fit, but they add an instant level of classiness to a look. From white to tan to black to brown, neutral shades are undeniably in.
Go For Glam - Oversized
As Y2K style continues to dominate, sunglass obsessions have taken two distinct flashback journeys. Months past have been all about the tiny specs but for fall 2022, we're embracing the chic nature of large, oversized sunglasses and for good reason - they're a pop of instant glam and give your look that Hollywood superstar energy.
Pops Of Personality - Shapes And Colors
It's all about personal style and embracing pops of interest. Trends for fall '22 and beyond are constantly evolving and picking up steam, but one big common thread remains: personal style. And with sunglasses, infusing a spark of interest can be done with frame shape or eye-catching color!
Everything retro is all the rage, so vintage cat eye frames are having a real moment. Their unique angular flourishes are a great way to add character to any outfit. And don't be afraid to go a little bit bold. Rocking bright colors is here to stay through the chillier seasons, so go forward with confidence with a happy hue, from cool colored lenses to fab frames in chic shades.
'70s Style
It's all about those vintage vibes. Runways and street style influencers alike have been immensely inspired by the '70s as of late. For sunglasses, that means everything from sleek aviators to warm, 1970s style shades of brown. What's old is new again as the fun energy of the iconic decade is taken in a modern direction.
Is your sunglasses collection ready for the trends of fall and winter 2022? Embrace fun, personal style and bold accents and you'll be ready to turn heads wherever you wear your glasses.