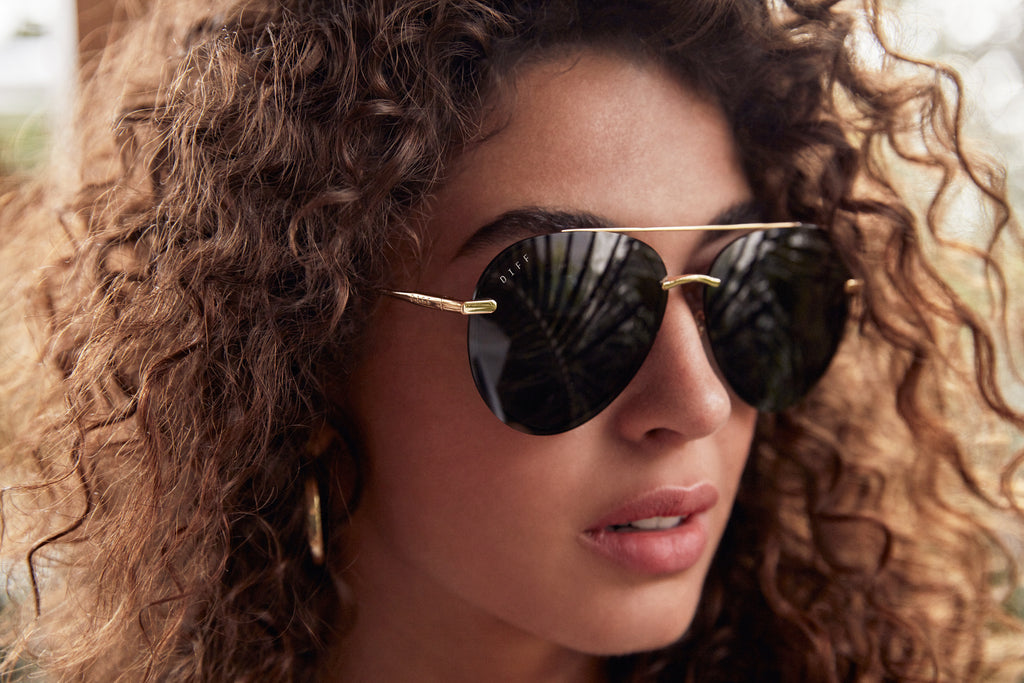 DIFF's Guide to Different Types of Sunglasses
Sunglasses have existed in their most primitive form since the prehistoric times but became what we now know as modern day shades around the 1920s and '30s when a company called Crookes began mass-producing inexpensive celluloid tinted lenses. In 1937, aviator frames were created for World War II soldiers and quickly made the style available to the public after immediate interest from celebrities and civilians. From there, the popularity of sunglasses grew, with Polaroid making the biggest stride in the 1930s with polarized lenses. The 1940s saw a boom in plastic round frames, with playful details like flower petals and contrasting colors becoming popular. In the 1950s, we were introduced to the iconic cat-eye frame, and finally the mod, oversized round and square frames of the '60s. From the '70s till now, we've seen many of the signature frames that have inspired brands time and time again including the glam, oversized square and aviator frames, and the smaller oval shape popular in the '90s. 
With so many design styles to choose from, it's hard to know which types of sunglasses are most flattering. Different frames work best on different faces. Here are the six main face shapes and the style of glasses that best complement them:
Below is a guide that visually explains which glasses work for which face shapes.
Glasses for Round Face Shape:
Round faces are generally wider and longer. The best glasses for round face shapes are rectangle and square frames that offset roundness and draw more attention to the eyes. 
Glasses for Square Face Shape:
Square face shapes tend to have a wide jawline and broader forehead. The best glasses for square faces are circular frames, like round and aviator shaped lenses that soften hard angles.
Glasses for Oval Face Shape:
Oval faces have more balanced proportions between the jawline and the forehead, making this face shape more versatile in terms of styles and frame options. The best glasses for oval face shapes are any shape, but include square and aviator frames. 
Glasses for Rectangle Face Shape:
Rectangular faces are usually longer than they are wide, with all features fairly proportional in distance. The best glasses for rectangle face shapes are square and rectangle frames that complement face length.
Glasses for Diamond Face Shape:
Diamond face shapes are characterized by an angled jawline, full cheekbones, and more narrow forehead. The best glasses for diamond face shapes are round and rimless frames which soften the features and add volume to cheekbones.
Glasses for Heart Face Shape: 
Heart-shaped faces have broader foreheads and more prominent cheekbones with a narrow chin. The best glasses for heart-shaped faces are round and geometric frames that soften face angles while hard lines can balance out the face shape. 
Finding the best kinds of sunglasses for your face shape not only helps with picking the most flattering styles, but it makes choosing your new favorite pairs of sunglasses easier than ever. From round to rectangle, to square or heart-shaped, DIFF has all oversized, cat eye, aviator, round, and square frame glasses to complement all face shapes and personal styles.