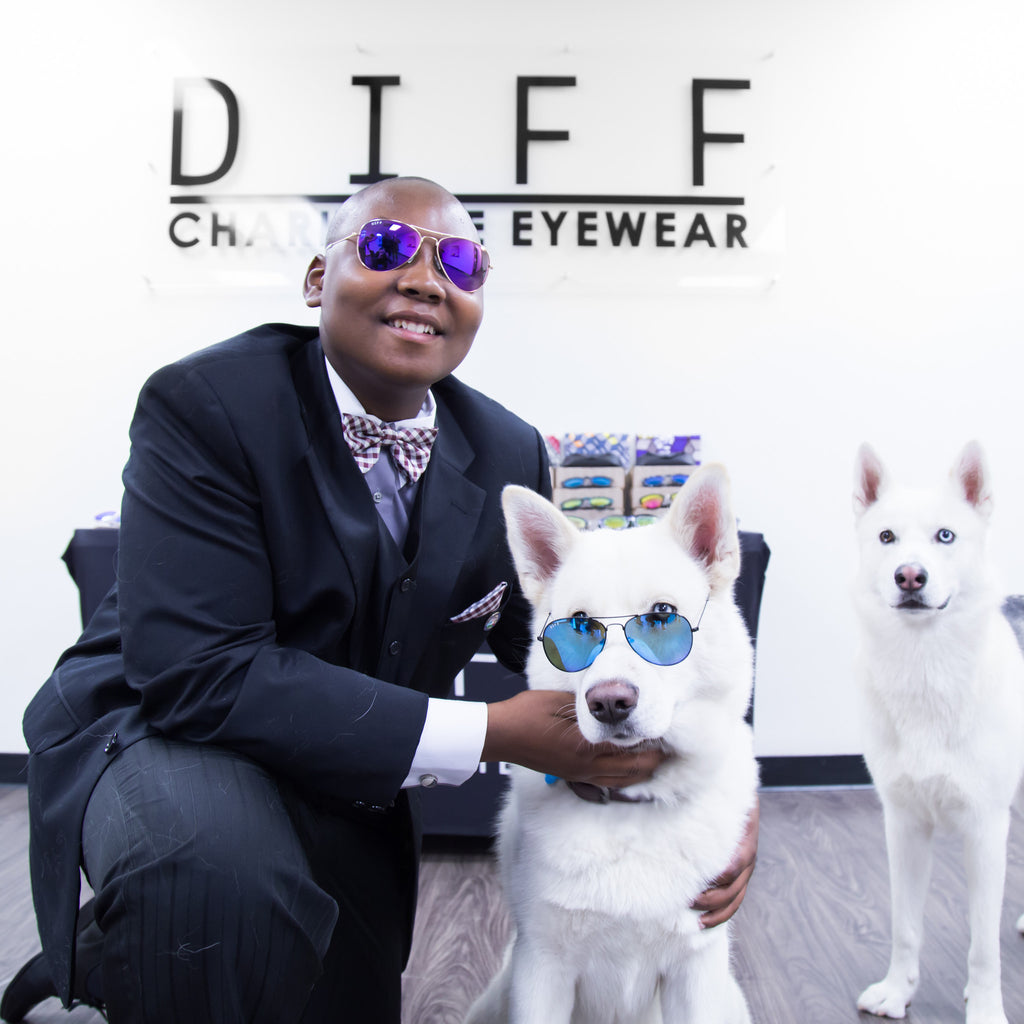 DIFF Eyewear Partners With Be Strong Global To End Bullying
A STORY OF HOPE

"It felt like a one in a million chance I was being heard."
DIFF Eyewear x Be Strong Global
Be Strong Global is a nonprofit organization providing resources to stop bullying, help teens who are facing depression, and ultimately save lives among the youth of America. 
We encourage you to

watch this video

and see why we feel so inspired to support this great cause!
MEET JOSHUA
Joshua is an anti-bullying advocate for Be Strong Global and stands as a voice for the voiceless. This week, Joshua came by the DIFF Headquarters to receive 100 pairs of glasses on behalf of the Be Strong Student Leaders. These glasses will be donated to one hundred boys and girls throughout the nation who are standing up and speaking out against bullying, alongside Joshua.

JOSHUA'S STORY
Dressed to the nines, soft-spoken, an ear-to-ear smile that lights up the DIFF Headquarters, Joshua is not your average eleven (going on twelve) year old.
Since the age of five, Joshua has found comfort in wearing a dress shirt and bowtie because it makes him feel "distinguished". Hand-in-hand in the city of Los Angeles, Joshua and his mother were homeless for three years; however, she made sure that this period of homelessness did not hinder Joshua's ability to be himself. She kept his clothes clean, his spirits high, and his heart full of love. Unfortunately, Joshua's days at school did not help provide any relief.
School became an inescapable dread for Joshua. Most school days, Joshua like so many others fell victim to severe bullying. This bullying took shape in the form of physical as well as emotional abuse and continued for years.

This week, Joshua came by the DIFF Headquarters to meet the team and share his story. While talking to Joshua about his challenges with bullying, he so wisely observes that kids tend to target those they perceive to be "different" because "different is scary". Joshua shares some of the difficulties that stemmed from this torment but then quickly steers the conversation to focus on the positives. He chooses to look at each day as a new opportunity to make a difference in the lives of those who are enduring a similar battle.
Now homeschooled, Joshua invests time in encouraging and inspiring other students. He stresses the value in not allowing bullies to hinder one's ability to achieve their goals.
When asked what he does for fun, Joshua responds, "I am passionate about writing poetry, public speaking, and encouraging others". This articulate, intelligent, inspiring young man is truly a beam of hope in the lives of so many. Joshua has the brightest of futures ahead of him and DIFF feels so fortunate to stand by his side as he achieves his goals.

Joshua will be taking the SATs this year with hopes of attending Cal State Los Angeles by the time he's thirteen.
At DIFF, we see the value in making a DIFFerence as well as embracing the beauty in being DIFFerent!! Joshua is the embodiment of this belief.
"Being kind to others is an important piece in the puzzle of change" Joshua Apparicio, 11 yrs.

THE ANTI-BULLYING INITIATIVE
We have been so moved by Joshua's story that we are partnering with Be Strong Global to put an end to bullying in the United States, once and for all.
To learn more about the initiative to end bullying, visit Be Strong Global's website: 

https://bestrong.global/

.
"What should memories of school be for me? Should it be of the ones who bullied me? Or should it be of the wonderful, incredible, intelligent me." Joshua Apparicio





A very special thank you to Joshua for allowing us to share his story.
Photos by Tadas Mikuckis