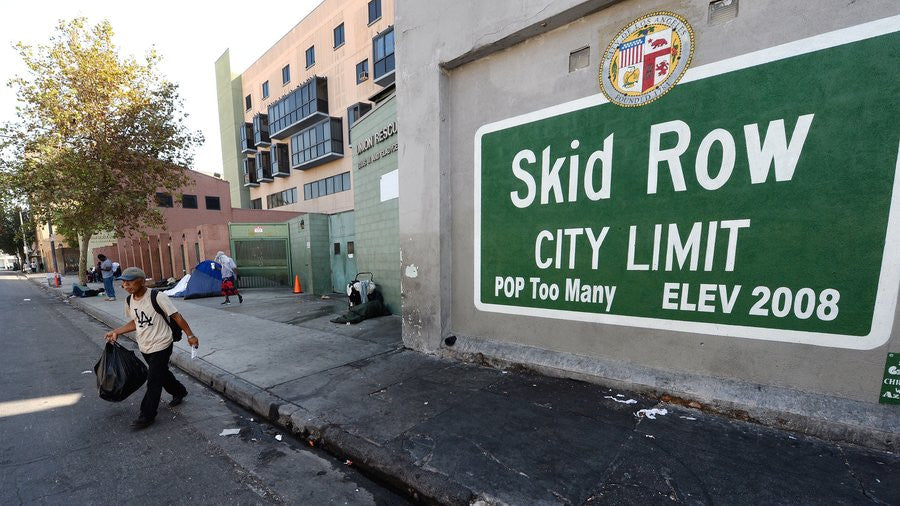 DIFF Eyewear Donates 3,500 Pairs Of Sunglasses At Skid Row's Carnival of Love

Sky-high dancers on stilts, free haircuts and face paintings, job opportunities and dance parties; this is not your average Saturday in downtown Los Angeles's infamous skid row. This past weekend, the impoverished district synonymous with homelessness was radiating joy and dancing to the rhythm of hope.
Once a year, The Wayfarer Foundation and the city of Los Angeles join forces to create a street carnival for the resilient and often forgotten, people living on skid row. On Saturday, January 28, 2017, members of the DIFF Eyewear Team
spent
 the day volunteering and donating 3,500 pairs of sunglasses at Skid Row's Carnival of Love.

In addition to donating glasses and spending the day giving hugs and sharing laughter, DIFF set up an in-house donation center leading up to the Carnival of Love. With less than two weeks between first hearing of the Carnival and the date of the event, we had modest aspirations for the in-office donations. What we thought would be a last-minute donation initiative turned into car loads of everything from blankets and jackets to feminine hygiene products, new toiletries and bedazzled backpacks.


We recognize that not everybody has the resources to donate thousands of pairs of sunglasses. Often, many do not have the means to give tangible goods like food or clothing. One thing we are all able to give back to others, regardless of income, experience, race, or education, is LOVE.

ABOUT THE EVENT
The sensational Carnival of Love event is organized by The Wayfarer Organization— a 501(c)3 tax-exempt non-profit organization. Founder and actor, Justin Baldoni, has spent his last nine birthdays giving back to the community of skid row and this year was the biggest turn-out to date. Upon realizing that there were too many volunteers at the 2017 Carnival (what a wonderful "problem" to have!), a wave of people took to the streets to serve those in the community who would not be able to make it inside the event due to full capacity. Water, food, hygiene bags, and sunglasses were distributed to thousands of people without access to these necessities.
For those who spent the day inside the Carnival, countless free services were offered: hair cuts, resume workshops, pet grooming, job opportunities, clothing and toiletry donations, meals, carnival games, medical services, dental health, wellness education, and a kid-friendly zone with face painting and bounce house.. just to name a few.

Justin wraps up the day with final acknowledgments and thank you's, then introduces dear friend and singer/songwriter Andy Grammer who sings his top-hit, "Keep Your Head Up." The perfect uplifting, inspirational ballad to conclude this event of hope.
As the Carnival comes to an end, our faces sore from a day of big smiles and legs shaky from too much dancing, my cheeks can't help but dampen with tears of gratitude and humility.
The DIFF Team could not have been more grateful to be a part of such a humbling day. A day of joy and inclusion, to remind these individuals that they are loved, and they have not been forgotten. A day where there is no rich or poor, no us or them, no "other".. there is only love.
A special thank you to The Wayfarer Foundation and Justin Baldoni for allowing DIFF Eyewear to contribute to such an important cause. We are truly humbled.