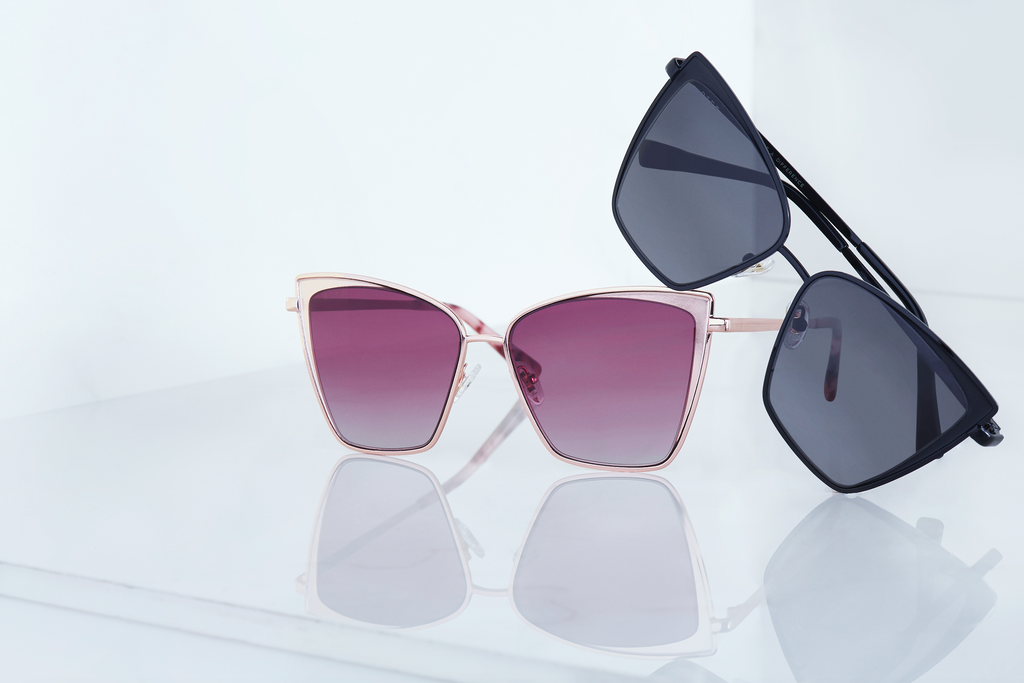 What Are Some Vacation Essential Sunglasses?
The summer season is the perfect time to head outdoors and take a vacation to enjoy the warm weather that arrives. For many people, taking a trip means getting the chance to recharge and create new memories poolside or at the beach. If you're ready to pack your bags and depart, it's important to consider a few of the top sunglasses options to take with you to protect your eyes from the sun and look fashionable with whatever attire you pack while spending time in a new location.
Pastel Sunglasses
Pastel sunglasses are lovely due to the color shades used on the frame, which glow in the summer light and can allow you to feel youthful. Some of the top color shades to consider for your eyewear include pink, salmon, and blue, which don't have to necessarily match what you're wearing. They're a hip twist on traditional sunnies and can draw more attention to your look. Choose a pair of pastel sunglasses that are chunky and thick, which look high fashion and upscale.
Surprisingly, neon shades have also re-emerged and are a top look to select if you want to add a pop of color to your attire. The bright sunglasses fully embrace the 1980s and look edgy if you want to take a risk with the accessory.
Rainbow Aviators
Rainbow aviators include all of the best color shades that embrace the summer season and allow you to rock a trendy accessory that will pair well with swimwear or a sundress. Rainbow aviators include mirrored lenses that are mysterious because they allow you to keep your eyes discrete while still getting a clear view of what's around you. The slim design of the frames also makes them look edgy and chic when you want to make an impression in a tropical destination.
Striped Sunglasses
If you want to rock eyewear that is in demand during the summer season, opt for a pair of striped sunglasses that will draw attention to your face. Striped sunglasses are available in different color shades and are in vogue because they don't look conventional. They embrace the nautical look and will allow you to fit right in when you're spending time on a boat or dining at an oceanfront property during your trip.
Cat Eye Sunglasses
Cat eye sunglasses first emerged onto the fashion scene in the 1950s and '60s and have made a comeback in recent years due to their added flair and personality. Marilyn Monroe was even seen wearing the cat eye frames, which allowed her to look flirty and chic. The shades are extremely feminine and are popular for their unique shape, which have pointed edges on top of each lens. Many of the cat eye frames are constructed from metal, which allows them to look upscale and modern.
Micro cat-eye glasses are also one of the latest trends to consider and look modern due to their smaller size of lenses. The frames are inspired by the '90s and have made a major comeback for those who aren't afraid to take a risk and nod to past decades with their eyewear. Many of the micro cat-eye glasses include flashy prints and color shades that are fun and pair well with loose shorts and athletic tanks.
Blended Frames and Lenses
The fashion industry recently introduced sunglasses that include frames and lenses that have the same color shade. Matching your lenses with the frames makes a statement and they are available in candy colors. Some of the top brands, like Kate Spade and Versace, are known to carry the style when you want to select an unconventional pair to wear while vacationing in Fiji or Hawaii.
Floral Patterned Sunglasses
Sunglasses with a floral pattern are one of the most recent trends for the summer season because they're unique and haven't been seen on most people in past years. They often include pops of color shades that allow you to get in touch with your feminine side and feel like a lady. The style is ideal to wear with a summer dress or a white blouse and will add a touch of detail to your attire with the fun print on the frames.
Oversized Eyewear
Don't be afraid to hide behind a pair of oversized eyewear that will allow you to look chic and fashionable when lounging poolside or on the sand. Oversized sunglasses are popular because it adds a touch of drama to any type of outfit and looks upscale due to the size of the frames. Classic stars and notable figures, like Audrey Hepburn and Jackie O, were known for rocking oversized sunglasses that make a statement and work well for blocking the sun. Consider purchasing a pair of tortoiseshell or all-black frames that are extremely glamorous and classy.
Round Eyewear
Round eyewear is incredibly boho and vintage, which is why the trend has been a popular look to see at outdoor festivals during the summer season. The frames look playful and fun when paired with fringed garments and tie-dye tanks. They also include colored tinted lenses or mirrored lenses, depending on your personal preference. Pair it with a few braids in your hair and some platform shoes, and you'll be ready for your outing.
Geometric Sunglasses
You can take a risk with your eyewear by rocking a pair of sunglasses that have a geometric shape. Hexagon sunglasses have recently been released by brands like Ray-Ban and are considered to be cool and sleek for both women and men to wear. They're not overly flashy, which means that you can feel comfortable wearing them while going window shopping or spending time at an outdoor restaurant while on vacation.
'70s Bifocals
Those who have an appreciation for the hip and groovy style of the '70s can rock '70s bifocals, which recently debuted on the runway. The thick-framed spectacles prove to be a hit because they're not what most people would consider cool or conventional when it comes to wearing sunglasses. They'll prove to be chic and fashion-forward when wearing them with a high neckline and sleek hair, which allows you to embrace a popular style in years past.
Gold and Black Shades
Few sunglasses are as modern and chic as gold and black shades, which both men and women can wear while spending time outdoors. If you're drawn more to attire that is sharp and polished, gold and black shades are a perfect choice that will pair well with different types of outfits that you wear during your vacation and can dress up your wardrobe. Many black shades include gold details on the rim or arms of the sunglasses and won't look out of style anytime soon due to their minimalism.
Red Lenses
Red lenses are a prevalent look on the runway that is eye-catching due to the untraditional color shade used for the summer. Designer brands like Anna Sui and Each X Other have recently included the trend in their latest collections because they have a unique look that isn't what most people are used to seeing during the summer months. You can rock red lenses with micro cat-eye sunglasses or round shades, which will allow you to make it look vintage, and can pair well with ripped shorts or a muscle tee. Pairing the red lenses with red attire can take your outfit up a notch and will create a stunning look.
Blue tinted lenses are also increasing in popularity if that's more your color shade. This is more of a soothing color to embrace with your eyewear. They'll make you feel at ease and calm, whether you're on an African safari or are spending time on a cruise. Choose a pair of small lenses that are retro and minimal if you want to rock a pair of sunglasses that are anything but flashy, proving that less is more.
Clubmasters
Round Clubmasters aren't going anywhere and continue to remain a popular choice to wear due to their retro-inspired style, which is favored by both men and women of all ages. The shades include gold detailing with a chunky black border on the top of each lens, which is commonly worn among those who enjoy spending time at the beach. The style proves to be versatile because it works well on all face shapes and pairs well with bikinis or Bermuda shorts due to their cool and laid back design.
Visor Sunglasses
Although visor sunglasses haven't been the definition of cool in many years, they're officially a trend this summer because they're a byproduct of the fashion industry's current obsession with the 1980s. The unique look of the sunnies makes them a top choice if you plan to participate in a few outdoor activities like kayaking, hang gliding, and zip lining while traveling during the season. Don't forget to include a strap that hooks onto each arm to keep them secure on your head or around your neck while they're worn.