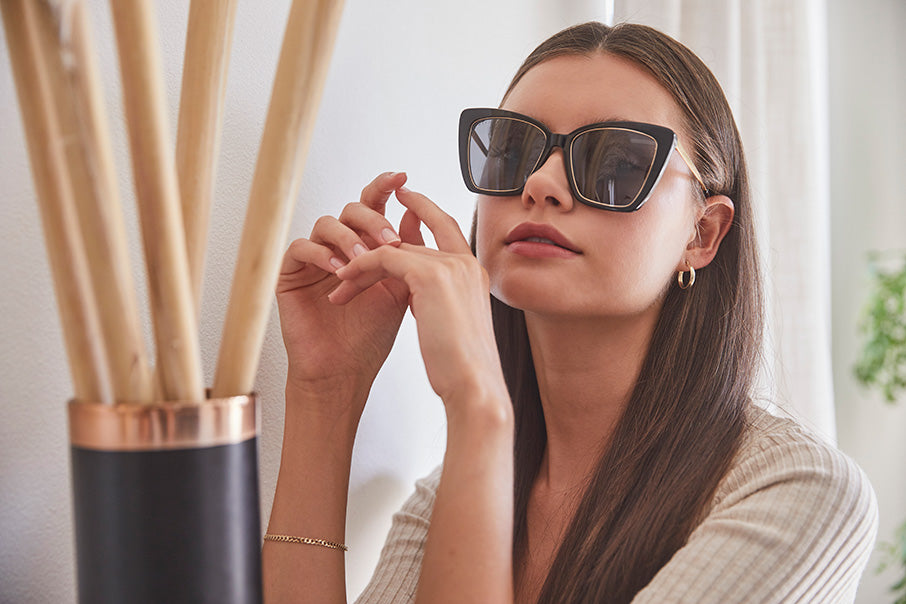 Fall 2021 Fashion Trends: Top 5 Trends & Sunglasses Styling Ideas
It's officially fall, which means it's the BEST season for fashion! From cozy knits to matching suits, the fall 2021 season brings a plethora of trends to get inspired. Keep reading to find out the top 5 fall fashion trends and how to style your sunglasses with your fall looks.
1. Cozy Knits
It may be no surprise that cozy knits are on trend this fall. With the cooler weather, there's nothing better than feeling cozy in sweaters, sweater vests, or even cable-knit pants! To complete your cozy OOTD, wear some warm-toned sunglasses. Our Cognac and Amber Tortoise colorways will compliment your knitted outfit perfectly!
Pair With:
Carson in Amber Tortoise
Becky II in Amber Tortoise
Bella in Cognac
Margot in Cognac
2. Saturated Colors
This next trend is a tad unexpected, but bright & saturated colors are making a major appearance this fall! Bold colors and funky geometric patterns have been appearing all over the Fall / Winter runway. So have fun with neon shirts, colorful cardigans, statement dresses, and patterned skirts. The more color, the merrier! And add to your colorful frock with one of our colorful sunglasses.
Pair With:
Koko in Gold Pink
Tahoe in Gold Purple Mirror
Dash in Matte Black Blue Mirror
3. Leather
Whether you're a fan of real leather or vegan leather, now is the time to revive your leather pieces! This autumn, try investing in staple leather items such as a leather jacket, leather boots, leather bags, and if you want to go all out - leather pants! Adding a few of these style staples will help transition your outfits into the cooler season. As for eyewear, pair your leather look with some sleek & classic black shades. They'll help tie your outfit together!
 Pair With:
Stevie in Black Grey
Kaia in Black Grey
Becky IV in Black Grey
Maeve in Black Grey
4. Matching Sets
With all the hustle and bustle of life, sometimes it's nice not having to think about coordinating your outfit. Thanks to matching sets, you don't have to! Experiment with matching suits as well as top & bottom sets this fall. You could also try using existing pieces in your wardrobe. Simply choose one color tone and create your own matching set! For eyewear, chic glasses or blue lights will help give you an even more polished look.
 Pair With:
Tali Glasses in Black
Bella XS Glasses in Tempete Grey Crystal
Jade Blue Light Glasses in Mulberry
5. Oversized Outerwear
When it comes to our final fall fashion trend, oversized outerwear, the bigger the better! Oversized jackets have taken over both designer runways and affordable fashion brands. Take your pick of an oversized classic wool coat, boxy bomber jacket, super-sized quilted down jacket, or plush oversized teddy coat. Then, accentuate your oversized look with some oversized sunglasses!
 Pair With:
Bella III in Amber Tortoise
Clara in Silver Blue
Vania in Black Grey
Lenox in Gold Brown
Becky III in Blue Gradient Flash
Couldn't find what you're looking for? Explore all of our bestselling women's and men's sunglasses.