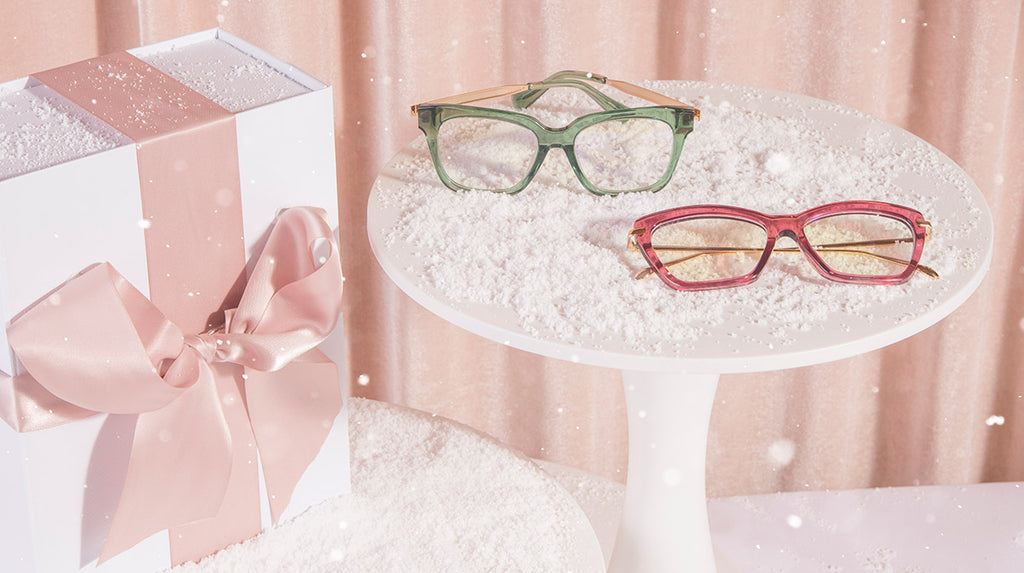 Our 2020 Holiday Gift Guide | Tis the Season for Our Best Styles
The 2020 Holidays are going to be a lot different than others in recent years (you might not see a lot of packed malls), which makes coming up with the best holiday gift ideas a little tricky.
We also have a lot to be grateful for this year: that's why giving the gift of DIFF is perfect for the holidays — we're an eyewear brand that gives back to people around the world. So when you find the perfect pair of glasses for everyone in your life in our Holiday Gift Guide below, you also know you're paying it forward and staying safe when you shop online with us.
Here, our best holiday gift ideas for every type of personality and style in the DIFF Holiday Gift Guide:
For the Style-Obsessed Instagrammer:
The oversized, chunky Bella frames are offset by their delicate gold temple stems, for a touch of luxe — a favorite for any budding social media influencer. We recommended them in Festive Umbria Wine for a pop of color in her favorite photo filter.
For the Wired Workaholic:
Many of us can sum up 2020 with one word: Zoom. So our holiday gift guide wouldn't be complete without a gift idea for the girl who's glued to her laptop all day, like a pair of protective blue light glasses. These ray-blocking lenses are said to reduce headaches, blurry vision, and disturbed sleep. Even if she doesn't need prescription glasses, a stylish pair of Westons will keep her looking professional and feeling well.
For the Chic Maximalist:
Oversized and edgy, our Kaia frames make a statement without saying a word. This look is perfect for the woman who believes "more is more," and colors range from Julep Crystal and Golden Harvest, a high-contrast black and pink combo, and a bold tortoise. The best holiday gift idea for the Maximalist in your life? Grab them in every color, of course.
For the Classic Girl:
Universal and unisex in style, a classic pair of aviators like the Cruz works for nearly every face shape, personality, and style preference. The basic black edition is the best gift idea for the person who likes to keep it simple, while a cherry blossom and gold combo is the best gift idea for someone a little more daring.
For the Vintage Vixen:
Whether her look is a blast from the past or she just loves the occasional throwback accessory, the cat-eye inspired Lizzy frames are the holiday gift idea for her. The Umbria Crystal Wine color is surprisingly versatile — perfect for Beach Blanket Bingo or a daybreak disco.
For the Diehard Jedi:
Polished, stylish, and with subtle nods to the Star Wars galaxy, this collection of glasses is perfect for any grown up fan who already owns all the action figures. The Darth Vader Sith Black frames are a bold nod to the leader's dark look, while the Princess Leia is a feminine cat eye in rose gold. The fact that they're limited edition make it the best holiday gift idea for serious collectors, too.
For the Modern Mom:
If there's a busy superwoman in your life who appreciates high-style with low-fuss, our Jessie James Decker glasses are the perfect fit. Simple, stylish and incredibly versatile, this holiday gift idea will keep her looking cool even when she's frazzled on an overbooked day.
For the Real Housewife:
Oversized, opulent, and with an edgy sophistication, our Becky frames say, "Meet me at Villa Blanca," and "Don't cross me," at the same time. For the stylish lady-who-lunches and loves a little drama, these cat-eye inspired frames are the real deal — a perfect holiday gift idea in any city she calls home.
For the Risk-Taker:
If there's one icon for the stylish rebel, it's the look of our Dean glasses. As necessary to any wardrobe as a black motorcycle jacket, these versatile, unisex frames are a classic staple that can be dressed up for something formal or worn with a lazy-Sunday brunch look to add a little polish. And with just enough edge, they're the best holiday gift idea for someone who's always up for a little risky business.
The Wild Thing:
If you know someone who cringes at simplicity and thinks life is too short to be #basic, chances are she's a Carson girl. These oversized and chunky frames are one of our boldest styles, and the wild child in your life can kick up the look a notch with a unique Lotus Tortoise finish, or in Chestnut Crystal for a not-so-subtle contrast.
Need more inspiration from our holiday gift guide? Check out DIFF's best-sellers and you're sure to find the best holiday gift idea for every kind of stylish friend or family member in your life.