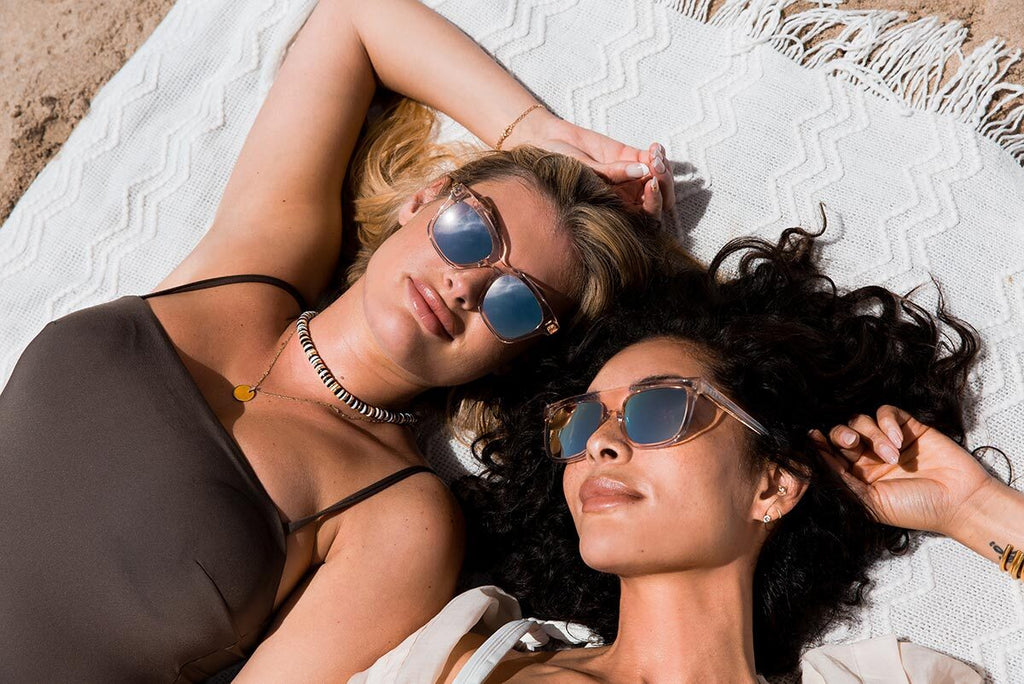 5 Benefits Of Wearing Sunglasses
The sun is shining. Pools are packed. And the smell of barbecue is floating in the air. Summer is here! And with it, the unrelenting sunlight. Here are 5 reasons why you should protect your eyes with some stylish shades this summer.
1. Block Harmful UV Rays
As beautiful as sunshine can be, those UV rays actually cause a lot of harm to your eyes. Prolonged UV exposure to your retina can result in Macular Degeneration, which is a condition that leads to vision loss. So, keep your eyes protected with 100% UV blocking sunglasses.
2. Get Clearer Vision & Less Headaches
Our eyes are naturally sensitive to light. In fact, too much sunlight can cause our eyes to strain which often leads to headaches and migraines. Wearing sunglasses while outdoors will help prevent discomfort. Even better, wearing sunglasses with polarized lenses will help increase your visual clarity. You may be wondering, what are polarized sunglasses? Polarized lenses are specially made to only allow vertical light to pass through, so that intense glares and reflections are minimized.
3. Reduce Your Risk of Skin Cancer
Did you know that about 5 to 10% of all skin cancer is found on the eyelid? That's why it's paramount to reduce your chances of the deadly disease by wearing sunglasses. Wearing a hat or visor can further reduce the risk of skin cancer.
4. Prevent Cataracts & Glaucoma
You may think that your chances of getting cataract or glaucoma are slim. But a statistic by the American Academy of Ophthalmology shows that 24 million people in the U.S. are affected by cataracts and nearly 3 million people are impacted by glaucoma. Thankfully, reducing your chances of both conditions can be as simple as wearing sunglasses and getting regular eye exams.
5. Anti-Aging Benefits Yup!
You read that right. Wearing sunglasses can keep you looking younger! The skin around our eyes is much thinner compared to the rest of the face, which is why it's one of the first areas those pesky wrinkles can appear. Stay youthful with some stylish sunnies. You could also opt for prescription glasses with photochromic lenses which transition from normal lenses to darker in sunlight.
Ready to add some shades to your summer routine? Shop DIFF Eyewear and take advantage of Buy 1 Get 1 Free on these sunglasses.