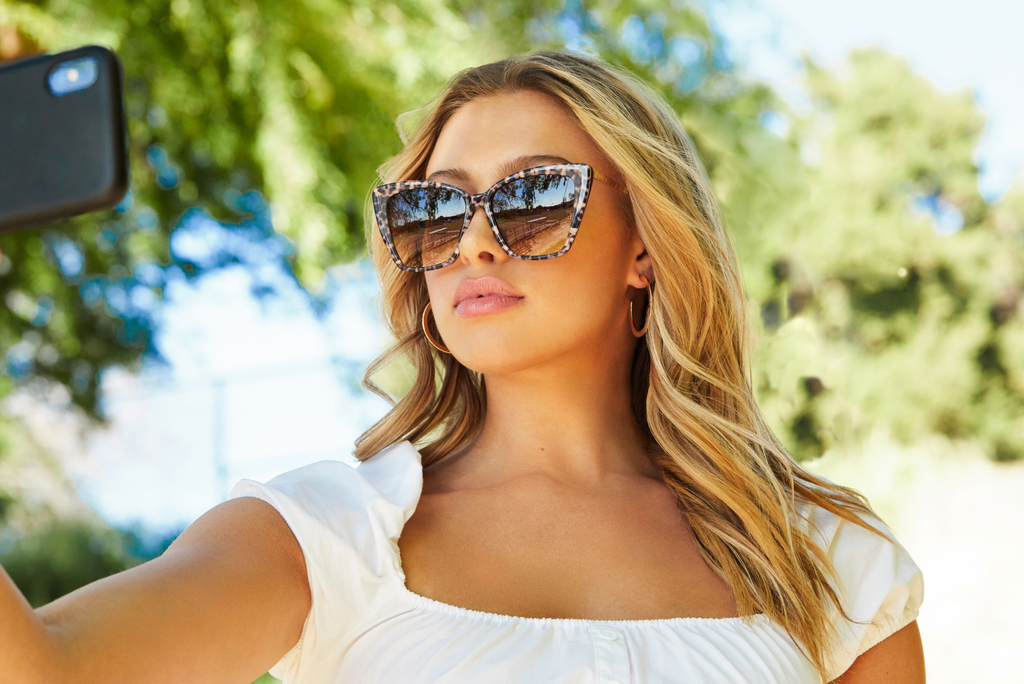 How Should Glasses Fit My Face?
Every so often, there is a need to change out old eyeglasses for new ones. Whether they have gotten lost, broken, or scratched, replacement is pretty much inevitable. 
When the time comes to replace your glasses, you could simply go for a pair similar to the ones you have now. Then again, you could change your look entirely, and opt for a different style. A new pair of glasses could breathe new life into your wardrobe, and make you feel more confident. You might also go for a totally different pair of glasses to mark an important milestone or event in your life. 
If you do decide to go for a different pair, there are some things to consider that will enable you to make a better choice. Read on for some tips on choosing your next pair of glasses.  
Deciding on Eyeglass Frame Size
The frame is one of the most important parts of your glasses. Choosing the right frame can flatter your face. Conversely, a less-suitable frame may keep you from showing off your most attractive features. 
Just like shoes, frames are made in different sizes. There are actually three dimensions to consider when determining the right frame size: the width of the lens, the width of the bridge, and the length of the arms. 
With most glasses, the lens width typically ranges from 31 to 60 mm. The bridge typically measures 12 to 31 mm. The arms, which are what supports the glasses over the ears, are usually 115 to 155 mm long. 
A good way to determine whether or not a new pair of glasses is the right size is by comparing it to your current pair. Even if you decide that you want your new glasses to be bigger or smaller, you will at least have a starting point for comparison. 
Which Glasses Should I Get For My Face Shape?
It is especially important to ensure that the frame matches the shape of your face. Certain types of frames go well with some face shapes but may be less flattering with others. Choosing the most appropriate frame for the shape of your face will make you feel more confident about your purchase. 
If your face is somewhat round, it might be best to go with a bold frame that has straight angles. Rectangular frames are always a good choice. You might also want to consider cat's eye frames or wingtip styles for a retro-inspired look.
If you want to shake things up somewhat and depart from the traditional, consider going for a round frame. It may not seem like the best choice for a round face, but the symmetry might just be the thing that will give your look that extra edge. 
If your face is a bit square-shaped, look into glasses that combine sharp angles with more gently-flowing sides. The straight lines will mirror the shape of your face visually, while the curved edges will soften up your features a bit. Some designs to consider are round or oval glasses and even aviator-style frames.
If you don't particularly care for a traditional look, go ahead and experiment with cat's eye or wingtip frames. These designs will emphasize your features, and give you a more distinctive look.
Most people's faces are actually more oval than anything else. The good news is that most any shape of frame will complement oval-shaped faces. You could pretty much go with anything and be assured of a pleasing look. But consider aviator-style and round frames too. No matter what you try on, you pretty much can't go wrong. 
Those with heart-shaped faces may want to try wingtip frames, aviators, or cat's eye frames. These will help balance out the shape of your face and flatter your best features. 
Choosing the Frame Color
Most eyeglass frames are in black, brown, or tortoise. These are all safe choices and are easy to match with anything. You can hardly go wrong with any of those three colors, but they aren't exactly the most exciting options available. If you want to make a splash with your look or simply don't want to make do with a safe choice, there are many other colors you can try. 
Matching your frame to your eye color is almost always a good way to go. Your choice will depend on whether you want your glasses to stand out, blend in, or complement your features. 
You might also want to consider matching the frame to your hair color. Just like matching frame color to your eyes, you will have to decide whether you want your glasses to be almost indistinguishable from your hair or to stand out in sharp contrast. 
Matching the color of your frame to your skin tone warrants more careful consideration. Skin with pink undertones generally looks best with cool colors such as gray, silver, or blue. 
If your skin tone is a combination of pink and golden hues, you have more leeway with regard to the color of frame you choose. Black is always a safe choice, although you might find bright and vibrant-colored frames suitable as well. 
Figuring Out the Best Frame Thickness
The thickness of the frame is more important than you might think. They can determine your ability to make a memorable visual statement or blend in with the crowd. 
Thick frames generally make a strong impression and are almost always noticeable. They tend to draw attention from your face, so they are usually better suited to people with prominent or distinctive facial features that they wish to de-emphasize. 
Thin frames are exactly the opposite. They tend to blend in with the rest of your face and can be almost unnoticeable. These are better suited for people that want their facial features to be noticed, or those that simply don't want their glasses to draw too much attention. If you have never worn glasses before, starting with thin frames is a good way to go.
Consider the Frame Width
Choosing the right frame width isn't as much a fashion concern as a practical one. This means that, unlike most of the other criteria, there is such a thing as a 'right' and 'wrong' frame width. Glasses with the right width will sit more securely on your face and feel comfortable. Conversely, glasses with the wrong width will feel awkward, imbalanced, and somehow 'off.' 
So how do you determine the right width for a new pair of glasses? Firstly, there should be just a small space between the arms and your temple. The glasses should also remain on your nose when you smile, and not move out of place. 
Getting the frame width right is one of the most challenging aspects of shopping for glasses online. If possible, get your glasses from a site that has a good return policy, so you can exchange them for a better-fitting pair if necessary. 
Arm width and length
The widths of the arms aren't really that important and are often sized in proportion to the frame. In most cases, the thicker the frames are, the wider the arms are as well. Wider arms are usually seen in sunglasses. Most eyeglasses will have fairly thin arms. 
The arm length is considerably more important. For women, ideal arm length is usually 135 to 140 mm. For men, these could be from 140 to 145 mm. As with most other factors, your decision should be based on the size and shape of your face. 
Taking Your Lifestyle into Consideration 
Unlike physical dimensions, factors such as your lifestyle can't be measured in inches or millimeters. Nevertheless, this is just as important as the frame size, arm length, and other factors when determining the right pair of glasses for you. 
The decision is especially important if you have an active lifestyle. You need to be able to rely on your glasses to keep up with you in everything you do. They should be fairly rugged and durable, and apart from the lenses, they should be able to withstand jostling, bumping, and getting squeezed into tight spots. 
Matching Your Glasses to Your Personality
Ultimately, your new pair of glasses should match your personality. All the dimensions and physical characteristics may be perfect, but if the glasses don't suit your personality, you probably won't like wearing them. You might, therefore, spend a lot of money on a new pair, only to have them sit in your dresser drawer unused. 
Whether your glasses reflect your personality or help reinforce a personality you are developing, it will be what most people will identify you with. Get a pair of glasses that show off your best attributes, and it might just become an integral part of your outward persona. 
Getting a new pair of glasses could be an exciting event. In some cases, it may even be life-changing. At the very least, it could mark an important stage in your life. Instead of dreading the thought of having to weigh so many different options, we propose that you look forward to buying a new pair of glasses as something that could lead to a more enjoyable and more rewarding future.